---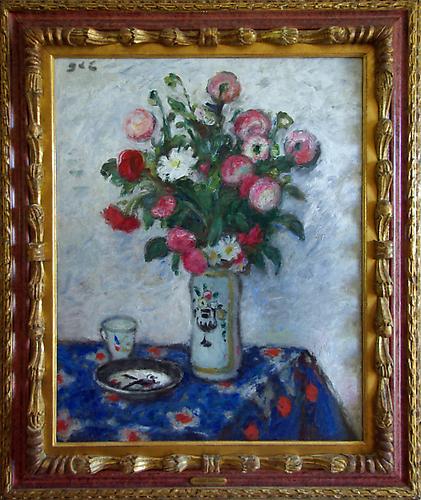 ---
D'espagnat, Georges


Georges D'espagnat (French, 1870-1950) Best known as a Post-impressionist and symbolist Painter, George d'Espagnat began his career in search of aesthetic originality. His subjects include figures and nudes, still lives, and religious compositions.

Born in Paris in 1870, d'Espagnat began his academic study at the Ecole des Arts Decoratifs in Paris. He soon sought greater independence and pursued his studies in Montparnasse. Around 1900, d'Espagnat encountered Maurice Denis, Bonnard and Vuillard. His collaboration with Denis originated the revival of religious art in France. During this period, in 1903, he was a founding member of the Salon D'Automne.

Later in 1934, d'Espagnat was nominated Head-Professor at the Ecole des Beaux-Arts in Paris. He participated in a variety of annual Parisian exhibitions including that of the Independants, the Societe Nationale des Beaux-Arts, and d'Automne, among many others.

He was also among those frequently published in the Courrier Francais, and was equally visible in L'Image. In addition to his paintings, d'Espagnat also received much attention for his drawings and engravings. He actually partook in the first exhibition of the Society of Printing in wood.

D'Espagnat painted many portraits and murals as well. In particular, he completed a wall for the Palais de la Decouverte (1937), the ceiling of the Victor Hugo room in the Palais de Luxembourg (1939), and a decorative panel for the Palais de Justice de Toulouse (1941).

Though d'Espagnat shared tendencies with both the Fauvism and Impressionism, he managed to create a style uniquely his own.